GHS Compliant Chemical Labels for Schools
Who needs to label chemicals according to GHS?
All chemicals in use in laboratories throughout Australia and New Zealand must be labelled according to GHS. Schools, like all other places of work, must have their hazardous chemicals labelled according to GHS and the Code of Practice. The WHS Act in Australia is binding on the Crown, so government schools must also comply.
What needs to be labelled or re-labelled?
GHS labelling is required for chemicals that are in use. Original containers are usually ok. Small containers of hazardous chemicals used by students (e.g. dropper bottles, small jars) are regarded as "decanted or transferred hazardous chemicals" and must be labelled with a minimum of crucial information, according to the Code of Practice.
What RiskAssess offers
RiskAssess provides a complete system for GHS labelling of hazardous chemicals for small containers. RiskAssess can automatically print GHS-compliant labels for more than 1,250 pure chemicals and their aqueous solutions, common saturated solutions, common reagents and indicators/dyes in mixed aqueous-alcoholic solutions. It only takes three easy steps and a few seconds to create a sheet of labels!
For less common chemical mixtures and for commercial products, you can make your own custom labels by selecting any signal word, pictograms and hazard statements that you wish. Staff and students in other school areas, e.g. Tech, Art, Maintenance, can also use the RiskAssess labelling system.
RiskAssess does a lot more than labelling. It is also an efficient tool for risk assessments, laboratory scheduling and equipment ordering. See more about RiskAssess for details. A RiskAssess subscription costs $350 (+GST) per school campus per year and includes all upgrades during the year.
Free Trial Available

(will open your email program)
Or email your school name to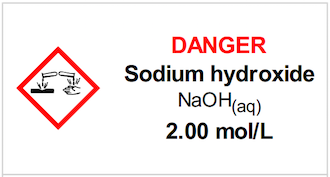 Automatic Label Layout
RiskAssess labels are laid out automatically to best show the pictograms and text for the label size you choose. There is no need to manually try and work out how to fit everything in, or make test prints to check for text or pictograms overflowing off the page. RiskAssess labels print clearly with the best text size and layout possible.
Labels for Solutions are Calculated Automatically
If you choose a solution from the RiskAssess database, the words and pictograms are automatically calculated based on the concentration you enter following the GHS guidelines and information from the RiskAssess chemical database. Concentrations can be entered in mol/L or %wt/wt. This means you can make a correct label for any concentration; it does not need to be commercially available or have a SDS.
Printing Options
RiskAssess supports printing on both Avery style sticky labels (including washable labels), or plain A4 paper for applying labels with tape/contact. Label sizes available:
Extra-Small (3x8, 24 labels per page, 64 x 33.8mm, eg, Avery L7159)
Small (3x7, 21 labels per page, 63.5 x 38.1mm, eg, Avery L7160)
Medium (2x7, 14 labels per page, 99.1 x 38.1mm, eg, Avery L7163)
Large (2x2, 4 labels per page, 99.1 x 139mm, eg, Avery L7169)
Read more about waterproof labels, label codes and paper/contact options...
You can also print partial sheets of labels, to save ink and expensive sticky labels, or to print multiple chemicals on a single sheet of labels.
For further details on the logic and practice of GHS labelling, see our GHS labelling of chemicals document. You can also read more about GHS Compliance and our label design focussing on pictograms.
Samples and Screenshots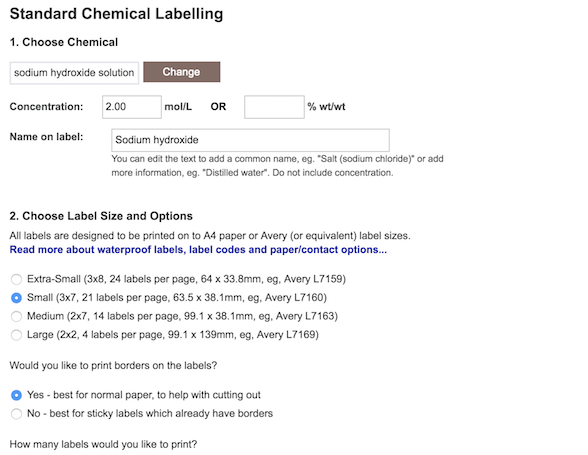 You can download sample label sheets, generated by RiskAssess, for each label size: