Student RiskAssess
Free Trial
If you would like a free 2 week trial of Student RiskAssess, please email your school name to
Student RiskAssess is a separate subscription, specially designed for students to do risk assessments themselves, either individually or as a group.
Meet curriculum requirements
The Australian Curriculum for Science (Version 9) requires students to take an increasingly active role in considering safety and assessing risk in investigations as they progress from Year 7 to Year 12: recognising and managing risks from Year 7, developing and following risk assessments from Year 9 and conducting risk assessments in Years 11 and 12. Read more about Australian curriculum requirements. Schools teaching the IB or extended investigations / depth studies are also required to conduct risk assessments for student-designed experiments.
Benefits for students and staff
Student RiskAssess helps students design their experiments more independently and become more aware of what they are doing rather than relying on the teacher to explain what to think about and to indicate the risks. At the same time, teachers can easily manage experiments and risk assessments, and laboratory technicians can efficiently compile order requests.
Simple to use
Student RiskAssess is user-friendly and includes online help screens. Students pick it up very quickly, and staff find it easy to use as it is so similar to Staff RiskAssess.
Tried and Tested in over 500 schools
More than 500 schools are now using Student RiskAssess and over 480,000 risk assessments have been performed.
Manage large numbers of pracs with ease
The new "Multiple Prac Management" system in Student RiskAssess allows teachers and laboratory technicians to efficiently review, provide feedback and sign off on large numbers of student pracs in one go. It is a huge time saver when managing large numbers of student pracs.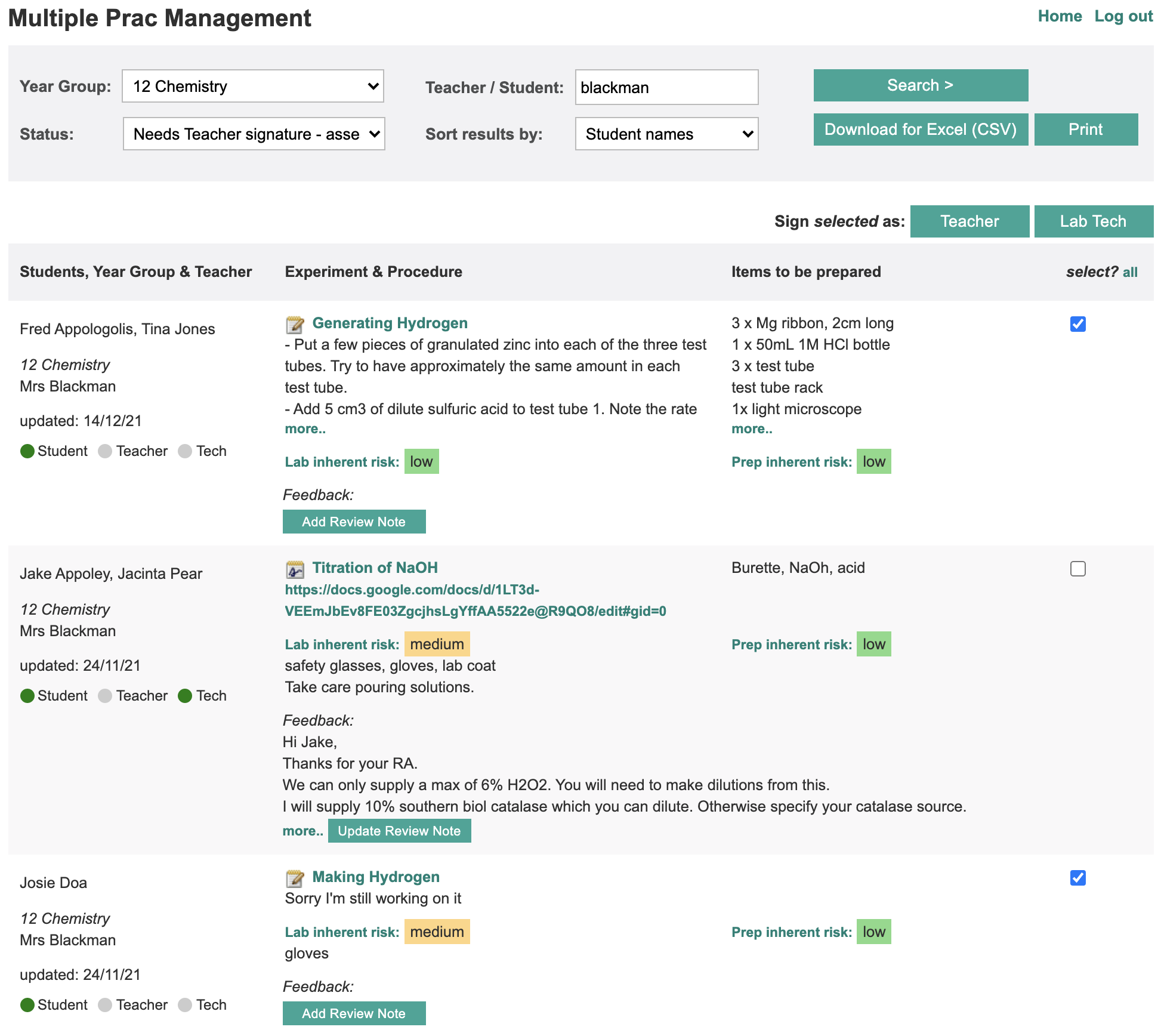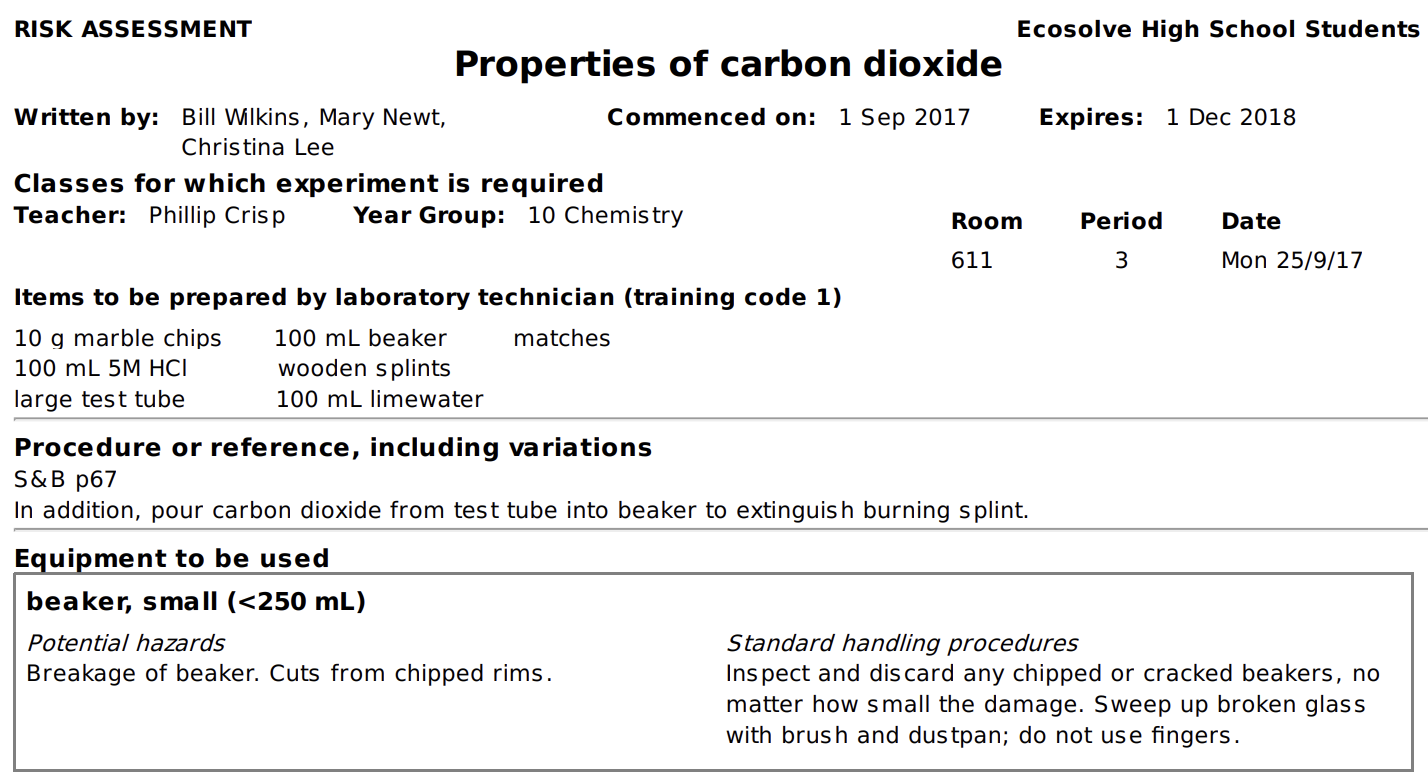 Special features for student use
Students must agree to conduct each experiment safely in accordance with school rules and teacher instructions
Student name(s) are recorded for individual or group work
Student(s) assess risks on the basis of likelihood and consequences
Student(s) assess inherent risk and record control measures
Teachers electronically sign that they have checked students' risk assessments and that appropriate control measures are in place
A separate laboratory scheduling page for student experiments to help laboratory technicians.
Staff login for review and feedback on student work
Student RiskAssess continues to have all the facilities of RiskAssess:
Use from anywhere with an internet connection
Database information on chemicals, equipment and biologicals
GHS data on 1200 chemicals and their solutions
Electronic templates that follow the International Standard on Risk Management (ISO 31000:2018)
Archiving of electronic risk assessments for legal purposes
Download the Student RiskAssess brochure for more details.
Student assessment
Student RiskAssess includes an optional PIN feature on each risk assessment. This allows a student to create a risk assessment that is PIN-protected and can only be viewed by staff and that particular student. This stops copying and allows student evaluation.
Unlimited access from classroom or home
Unlimited numbers of students and staff can access Student RiskAssess at the same time. Student RiskAssess can be used in the classroom on laptops, iPads and smart phones. Students and staff can access Student RiskAssess from home or from any location with an internet connection.
Subscribing
The cost of a year's subscription to Student RiskAssess is $350 (+GST) per school campus. This is in addition to the cost of a subscription to staff RiskAssess. A subscription lasts 365 days from the date that payment is received and includes all upgrades during that period. Once you subscribe to Student RiskAssess, you can easily migrate your risk assessments from a trial to your subscription. Student RiskAssess has a different login and password to RiskAssess for Staff, so that students do not have access to risk assessments created in RiskAssess for Staff by teachers and laboratory technicians.